Are you a nurse practitioner, and you intended migrating to Canada or you are currently living in Canada and in need of nursing jobs? This page will assist you to getting a nursing jobs in Canada.
Registered nurses, licensed practical nurses and personal support workers are in high demand in Canada with this we have available nursing jobs in Canada for foreigners and residents, with employment opportunities in either official language (English or French).
NURSING JOBS IN WESTERN HEALTH CANADA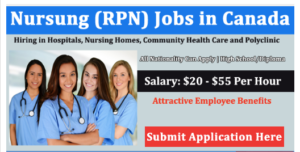 Permanent full-time
Nurse Practitioner
Mental Health and Addictions;
This position is 1 of 3 Nurse Practitioner positions offering services to the Mental Health and Addictions Programs in Western Health including Humber wood Inpatient treatment Center, Acute Care Mental Health Unit and Opioid Dependency Treatment. If you are interested in this growing area of practice we would love to have you join our team.
DUTIES:
This is a highly progressive nursing position responsible for assessment, diagnosis, treatment, evaluation, and follow-up of clients receiving mental health and addiction services
The Nurse Practitioner will work in liaison with physicians and other professionals on the mental health and addictions team.
Reporting directly to the Manager of Mental Health and Addictions Services, the Nurse Practitioner provides generalized and advanced nursing services to manage both the medical and psychiatric needs of clients/patients within Mental Health and Addictions including medical assessments, withdrawal management, health education, and health prevention and promotion.
QUALIFICATIONS REQUIRED:
Graduation from an approved School of Nursing and successful completion of a Nurse Practitioner Program are required. Current registration with the College of Registered Nurses of Newfoundland and Labrador and a current Nurse Practitioner License are also required.
Clinical experience in the area of mental health and addictions would be an asset. The incumbent must demonstrate strong leadership, communication and organizational skills. The ability to establish and maintain effective working relationships is essential. Must be able to practice both independently and in collaboration with physicians, psychiatrists and other members of the interdisciplinary health care team.
A satisfactory record of work performance and attendance is required.
Hours of Work: 0800-1600 Hours, Monday to Friday (75 Hours per pay period)
Salary: $84,961.50 to $105.339.00 per Annum.
Competition Number: WH- 2022000646
Competition Closing Date: 27 May 2022
Recruiter Name: Janice Coleman
A resume, supporting documentation, and the names of two references are required. Applicants who do not provide the necessary documentation as outlined on this job posting will not be considered.
Thank you for your interest with Western Health. Only those applicants selected for an interview will be contacted.
To apply, go to https://employment.westernhealth.nl.ca If you are having issues when using eRecruit, please email [email protected]
The Nurse Practitioner will provide services to patients of all ages presenting to the Niagara Eating Disorder Outpatient Program. Some examples of the particulars of the position include: assessing client's physical and mental health, prescribing, providing health screening, educating, medical monitoring and conducting physical examinations.
QUALIFICATIONS:
o Current registration with the College of Nurses of Ontario – Extended Class License.
o Masters Degree in Nursing required.
o Previous experience in RN-EC and NP role development.
o Knowledge and capacity in the field of eating disorders and mental health is preferred. Includes training in weight science and trauma informed care
o Familiarity with therapeutic modalities such as cognitive behavioural therapy and family based interventions.
o Superior skills in assessment, diagnosis and therapeutics.
o Strong conflict resolution skills.
o Experience in health teaching and health promotion.
o Experience in group therapy and individual counseling an asset.
o Ability to converse in French an asset.
o Basic computer skills in Microsoft Office and data management programs.
o Ability to function at a high level both independently and within a multidisciplinary team.
o Evidence of customer service, organizational, interpersonal, communication, leadership, judgment, critical thinking and decision-making skills.
o Flexible, self-directed and able to work effectively with minimal supervision.
o Consistent and regular attendance required.
o Proficiency in both official languages (English & French) will be considered an asset.
o Vaccines (COVID-19 and others) are a new hire requirement of the job unless you have an exemption based on medical or on a ground pursuant to the Ontario Human Rights Code.
Recruitment Specialist: Marissa Panucci
You can visit the official website https://www.niagarahealth.on.ca/site/careers