Seeking for high demand jobs in Canada ? You are the right page of getting high demands jobs in Canada. In 2022 Canada has created over 50,000 new job opportunities for immigrants who are either skilled and unskilled but ready to work and live in Canada.
As there is a progressive increase in the number of individuals immigrating to Canada annually, one question we often get asked is: What are the high demand jobs in Canada? We are glad to have help you with this question, and much more delighted to share this with you.
Some jobs positions are consistently listed among the most high demand jobs in Canada, thus building a career path in those professions is typically less difficult for individuals, especially with the help of staffing agencies. This year, there has been an increase in demand for most roles.
There are roles for skilled labour like a general labourer, truck driver, and welders. Likewise, there are roles for people in the administrative and professional field like human resource manager, project manager, account manager, administrative assistants, and receptionists.
There are job openings in various provinces and territories in Canada. And there is a place for everyone with different career paths, skill strengths, ranging from blue-collar to white-collar roles.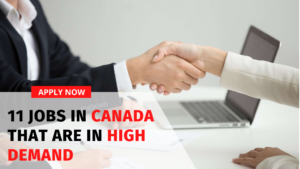 High Demand Jobs in Canada
1. Web Developer
Web developers work at various organizations from small and medium-sized businesses to large corporations and governments. A web developer is a specialist who is involved in the development of applications or a programmer.
With Canada's two-week processing timeline for the Global Talent Stream, web developers have a solid pathway to obtaining a Canada work permit.
Average Salary: $69,305
Related Occupations: Web Designer, Webmaster, Search Engine Optimization (SEO) Specialist.
2. Human Resources (HR) Managers
Human resources managers are high demand jobs in canada and this job also have the responsibility of recruiting the right talent in Canada's tight job market.
3. Electrical Engineer
Electrical engineers have an important role they play in the modern economy and with this their services is always needed. Electrical engineers design, analyze, specify, construct and test electrical systems and components and are responsible for their safe operations.
Average Salary: $91,832
Related Occupation: Electrical and Electronics Engineers.
4. Veterinarians (Vets)
Canadians are lover of pets in which many are owners of varieties of pets, ranging from cats, dogs, and other domestic animals. However, the number of veterinarians in Canada is limited making this one of the most in demand jobs in Canada for several years.
Vets in Canada are required to have a degree from a veterinary school that has the right approval. A veterinarian trying to build a career path in Canada is required to have a license from the regulatory body within the provinces/territories, as this is a provincially regulated occupation.
5. Recruitment Officers
Businesses grow, and as such, there is a relative increase in the demand for people fit for these vacant positions. Recruitment Officers (Recruiters) play a major role to fill the unending demand in Canada for candidates to fill the job openings made available. In professional fields like engineering and technology, the demand for recruiters is very high.
A recruiter trying to build a career path in Canada is required to have a bachelor's degree in a field like human relations. A recruiter can improve their chances by registering as a professional recruiter, also by being a member of the Association of Professional Recruiters of Canada (APRC).
Average Salary: $65,292
NOC Code: 1223
Related Occupation: Human Resources Professional
6. Welder
One of the perks of working as a welder is that you do not necessarily require a university or college degree but you still get well paid. Welders are constantly among the high demand jobs in Canada. This is a skill that requires knowledge in the welding field. To become a welder in Canada, you need vocational training or apprenticeship, or both. This job is now among the top 15 jobs for the current year with high demand and this can be seen in the diminishing number of skilled trade workers.
To improve your potential of getting employed as a welder, you can master the skill of underwater welding, which requires you to be a good swimmer and not have aquaphobia.
Average Salary: $73,504
NOC Code: 7327
Related Occupation: Welders and Related Machine Operators
7. General Labourer
General laborers move materials and equipment. They take on physically demanding jobs such as doing excavating, demolition and compacting activities. Construction craft workers prepare and clean up construction sites. Not many can work as general laborer , with that it has become among the high demand jobs in canada
Average Salary: $47,678
NOC Code: 7611
Related Occupation: Construction Trade Helpers and Laborers, Construction Craft Worker.
8. Driver
Driving is also a high demand jobs in canada , infact There are different categories of drivers, from delivery drivers, truck drivers, forklift drivers, and long-haul drivers. If you are able to drive a commercial vehicle, then you have a great chance of landing a job in Canada as well.
The labour market is vast and as people intend to move goods and products around, there is a need to fill the position of commercial drivers. The required certification is a commercial vehicle driver's license, or a forklift operator certification. You should expect to find employment easily in Canada as long as you have the proper licenses.
Average Salary: $44,836
NOC Codes: 7511, 7521, 7452
10. Industrial Electrician
Another high demand jobs in canada is Industrial Electrician, The amount paid as salaries to industrial electricians differs in provinces and territories in Canada. The industrial electricians who work in British Columbia, Ontario and Manitoba have the highest pay compared to those in other provinces/territories in Canada. The most interesting part of this work is that you do not need a degree, rather what is required is an apprenticeship and a combination of vocational training. This has been one of the most in-demand jobs in Canada from 2018 till the present.
Average Salary: $83,671
NOC Code: 7242
11. Heavy-Duty Equipment Mechanic
Heavy-duty equipment mechanics maintain, repair, and overhaul large machinery and industrial heavy equipment, which are connected to or moved by a power unit. Sectors include energy and manufacturing, which are essential to Canada's economy.
Average Salary: $82,864
NOC Code: 7312
Related Occupation: Heavy equipment technician, Agricultural equipment technician.