General Laborers are responsible for various manual tasks such as digging trenches, unloading building materials, and preparing job sites. They use hand tools like shovels or picks while operating machinery to help them with their work and assist crews with other necessary tasks. Here we have General Laborers Jobs In Canada
General labor is any physical job with non-skilled, hands-on tasks, such as cleaning, moving or landscaping. A laborer makes an average national salary of $27,310 per year.
How to get a General Laborers Jobs In Canada
Since there are several jobs within the general labor field, the steps to attaining one of these positions can vary. Here are the basic steps for becoming a general laborer in canada:
Gain high school experience
Earn your high school diploma
Improve your skills
Gain experience
Get certified
Create a resume and apply for a job
SEE BELOW AVAILABLE GENERAL LABORERS JOBS IN CANADA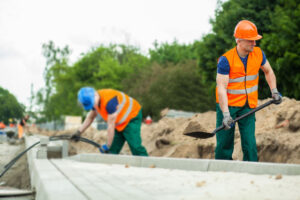 Northland builders are currently employing general laborers and offering an hourly salary of $25 an hour – Full-time
Specific Skills
Tend or feed machines or equipment used in construction
Remove rubble and other debris at construction sites
Mix, pour and spread materials
Load, unload and transport construction materials
Level earth to fine grade specifications
Erect and dismantle concrete forms, scaffolding, ramps, catwalks shoring and barricades
Direct traffic at or near construction sites
Assist heavy equipment operators
Assist in aligning pipes during pipeline construction
Assist in demolishing buildings
Assist in framing houses, erecting walls and building roofs
Pave and rake asphalt
Clean and pile salvaged materials
Clean up chemical spills and other contaminants
Read and interpret blueprints
Assist in drilling and blasting rock on construction sites
Work Site Environment
Outdoors
Dusty
Personal Suitability
Team player
Reliability
Long term benefits
Other benefits
Interested applicants should apply now
SureWay Construction group is employing general Laborers in canada (Industrial Sand Plant), with an hourly salary of $23 – $28 an hour – Full-time
Sil Industrial Minerals is a company of good, hard-working people dedicated to providing excellent service and top-quality products for its customers through leading edge technology. That's why Sil Industrial Minerals is Western Canada's leader in industrial sands, blasting abrasives and equipment.
Work for Sil and enjoy being home with your family/friends every night!
Rate: $23.00-$28.00
We offer: Benefits, Pension
Job Type: Full Time
Schedule: 10+ Hours/day, Day and Night Shift, Varying Shift Rotations, Schedule as per Operational Requirements
Location: Bruderheim, AB – 570079 Range Rd 204, non-camp position, required to live in the area, approximately 12 km north of Bruderheim on Range Road 204
Essential: Hard-working, reliable, flexible with schedule, ability to work in physically demanding conditions
Requirements:
Personal Reliable Vehicle
CSA approved steel toed boots with 6" ankle support
Pre-employment:
Drug and alcohol testing (swab-based test)
Successful completion of Company Orientation and site-specific orientation
Mask Fit Testing
Baseline Testing (respiratory)
Laborers Responsibilities:
Promote, execute and adhere to the company's safety program, and encourage all employees, subcontractors and consultants to adopt safety as a culture.
This is a general responsibilities list and does not include all responsibilities required of the position.
Sil Industrial Minerals is an equal opportunity employer. We would like to thank all applicants for submitting their resume; however only those selected for an interview will be contacted.
We're Ready. Are You?