JOBS IN CANADA
Passenger Car Cleaner (General Worker) In Canada – Apply Now
Via Rail Canada Inc. is a Canadian Crown corporation that is mandated to operate intercity passenger rail service in Canada. It receives an annual subsidy from Transport Canada to offset the cost of operating services connecting remote communities. Via Rail operates over 500 trains per week across eight Canadian provinces and 12,500 kilometres (7,800 mi) of track
Via Rail Canada Inc is looking for Full Time Passenger Car Cleaners for  Toronto Maintenance Center (TMC) Etobicoke and/or at Union Station Toronto.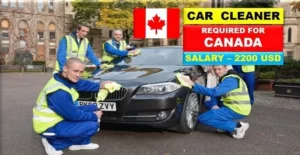 As a Passenger Car Cleaner you will be responsible for cleaning the interior and exterior of passenger railway cars vacuuming and washing carpets wiping tables and chairs changing direction of seats cleaning washrooms washing windows (interior exterior) filling reservoirs with potable drinking water and emptying waste water tanks.
AVAILABLE POSITIONS
full-time. 40 hours per week. You must be able to work any day of the week. Shifts will include either days evenings or nights. Two consecutive days off will be assigned.
SALARY: $28.94/ H
Evening bonus $0.75 /H
Requirements :
You should possess experience in commercial cleaning or building maintenance.
Education/experience in mechanic is also a plus.
You must possess a High School Diploma
Be physically strong and capable of lifting weights of 23 kg
Possess a valid driver license.
Work In Canada Visa – Apply Now
Reference Number :
GW TRTO 052022
Status :
Permanent – Full time
Job Category :
General Maintenance
City :
TORONTO
Province :
Ontario
Annual Salary / Hourly Rate :
28.94
Number of positions to be filled :
6
Application Deadline: :
2022-05-06
Description :
COME ON BOARD AND JOIN US
If you feel that this position is for you and fits your skills please manifest your interest by applying online on our Web site under the careers section at http //www.viarail.ca/careers
VIA Rail thanks all applicants for their interest, however only those selected for an interview will be contacted. VIA Rail is an employment-equity employer and encourages all qualified candidates to apply. VIA Rail Canada is proud to be a military friendly employer.