JOBS IN CANADA
Customer Service Representative Jobs In Canada – Apply Now
Customer service representative interact with customers on behalf of an organization. They provide information about products and services, take orders, respond to customer complaints, and process returns.
Cintas is seeking a Customer Service representative who will be a Data Entry Assistant. Responsibilities include batching orders; keying orders; answering general mail box phone calls; providing order assistance to sales representatives.
Job Category: Office Administration
Organization: Rental
Employee Status: Regular
Schedule: Full Time
Shift: 1st Shift
Skills/Qualifications
Required
High School Diploma/GED
Minimum 1 year phone and/or face-to-face customer service experience
Proficiency with Microsoft Office (Word, Excel, Outlook) and intranet/internet
Data entry or order entry experience
Our employee-partners enjoy:
Competitive Pay
Weekly Pay Cheques
RRSP and DPSP Contribution
Medical, Dental & Vision Insurance Package
Disability & Life Insurance Package
Paid Vacation & Holidays
Career Advancement Opportunities
Software Developers Job In Sps Commerce Canada – Apply Now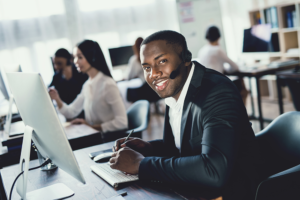 Cintas Corporation helps more than 900,000 businesses of all types and sizes get READY™ to open their doors with confidence every day by providing a wide range of products and services that enhance our customers' image and help keep their facilities and employees clean, safe and looking their best. With products and services including uniforms, mats, mops, restroom supplies, first aid and safety products, fire extinguishers and testing, and safety and compliance training, Cintas helps customers get Ready for the Workday®.
To support our growth across North America, we're seeking driven professionals with ambition to move up within our company. Our professional culture, our dedication to our employee-partners and limitless career opportunities—these are just a few benefits we're proud to offer. Our employee-partners know every job is critical, and that teamwork drives innovation. Let's talk about how you'll fit into our team and how your hard work will be recognized through competitive pay, world-class benefits and ongoing career development. Are you Ready™ for limitless opportunities at Cintas?
Customer Service Representative needed In St. Joseph's Health Care London
The primary purpose of the customer service representative is to ensure consistent and timely messaging in response to customer inquiries related to all of the services HMMS provides. This involves responding to customer requests or redirecting to the appropriate HMMS area for handling within Customer Relations Management (CRM) system. Additional responsibilities include placing orders on behalf of strategic customers including Renal Home Patients and will be the first point of contact for HMMS' customers on behalf of HMMS.
The 3 main areas of responsibility for this role are:
1. Generate Requisitions for identified customers
o Renal Home Patients
o Renal Satellites
o HMR customers
o HMMS operations
o Requisition updates
o Returns for all customers
o Req Approval for Overrides
2. Resolving Customer Requests
o Review and assign all customer inquiries/requests/concerns within the Customer Relations Management (CRM) system.
o Apply job aides and follow standard operating procedures when responding to customers
o Answer centralized phone, jabber, email and redirect appropriately Ensure Customer has confidence the loop will be closed
o Requires general knowledge of all areas
3. Measuring Customer Satisfaction
o Productivity KPI tracking (manual and technology logging of issues)
o Conduct Periodic Customer Surveys
Essential Qualifications
Post-secondary education (Health or Business-related diploma or degree).
Demonstrated superior customer service.
Organized with a very strong attention to detail, time management & ability to manage multiple priorities,
Excellent oral and written skills
Comfortable with technology
Ability to work independently and collaboratively
Ability to work in a fast-paced environment
Demonstrate initiative
Strong interpersonal and verbal communication skills in order to deal tactfully and effectively with internal/external contacts at all levels
Proactive, respectful, positive and professional attitude
Highly motivated, creative thinker with demonstrated problem-solving skills
Experience interacting and communicating with a wide variety of positions within an organization
Knowledge of a Safety Culture in a Health Care Setting in compliance with the OHSA
Preferred Qualifications
Experience within the health care industry is preferred
Customer Service work experience is preferred
Proficiency in French would be an asset
Teaching and Research
St. Joseph's Health Care London through its affiliation with Western University and Fanshawe College is a leading research and teaching hospital. As an employee of St. Joseph's you will be expected to engage in role related teaching and research activities in addition to any of your clinical duties
Immunization Requirements
Provide documentation you have received two doses of the Covid-19 vaccine and a written commitment to follow any future Public Health recommendations and St. Joseph's Health Care London policies and processes related to Covid management in the workplace
Provide vaccination records or proof of immunity against measles, mumps, rubella and varicella (chicken pox)
Provide documentation of the Tuberculosis skin testing